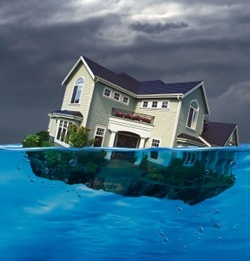 You know how people say, "If it seems too good to be true, it probably is."
Well in the case of looking at homes, not only is it, but it is probably also sinking in the ground.
I looked at a house on Sunday that I was SURE was going to be "the one". It was listed at a great price, in a great neighborhood, with a huge yard, and plenty of bedrooms.
Well, I
should've
known not to get my hopes up. But I did. And it backfired.
This house appeared to be my dream home from the front. White brick, one story, black shutters. But upon walking up to the entrance, it became quite clear that
this house had more obtuse angles than an 6

th

grade math test.
Thank goodness, due to living with my parents, I haven't had a Sunday hangover in over a month. Because the changes in incline in that house would have definitely given me the spins. I'm talking about angles that actively engaged the calf muscles. This was no cosmetic quick-fix.
No house for
Mamacita
this week. Hi, Square One! Nice to see you again! :P