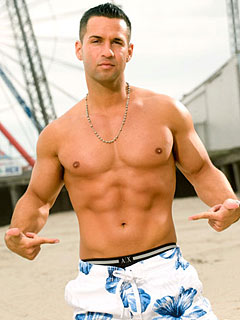 Amazingly, after
calling out
celebrity news sources for not reporting about important things like the cast of Jersey Shore (which was said in jest,
btw
), a member of the Jersey Shore house immediately announced that he was going to rehab for alcohol abuse.
If I only I could be clairvoyant about things more life-changing than a bunch of
guidos
abusing alcohol...
Anyway, Mike "The Situation" checked himself into rehab yesterday for abuse of prescription pills and alcohol. Article
here
.
While this is in no way surprising, since his "job" is, by definition, to get drunk and act a fool, I am surprised that this A) didn't happen sooner and B) didn't happen to
Snooki
or Deana first...Bitches can drink!!
Oh and kudos for throwing RX pills into the mix. Way to be unpredictable Mike!
Although the cast just signed on for Season 5 of the reality show, I am pretty sure all recent events spell DOOM for the series. Although "
Sitch
" is a miserable waste of space who tries to ruin
everyone's
life,
Snooki
is arguably the most sensational person to ever grace a television set. No one is going to want to watch a house on TV where the main characters are pregnant and sober. The rest of the gang doesn't provide enough
dramz
or one-liners to keep this machine going.
Tootaloo
guidos
! What will they do next?? I know
Snooki
has her Vet Technician's license to fall back on, but I'm worried about Ronnie and Sammy. Besides being in highly toxic relationships I don't know what they're good at!